From landscapes depicting his Maine summer property and coastal waters to stylized portrayals of friends and family, Rosenbaum delivers an intimate look at Katz through a diverse array of locations and subjects.
The gallery's first exhibition of 2018, Alex Katz: People and Places, is dominated by miniature paintings, with a few exceptions. Leigh, a 96 x 48-inch painting governs a left wall within the space, towering over the 9 x 12-inch paintings to its right, while Sasha 2, a 34 x 34-inch archival print greets gallery-goers at the front door to deliver a prelude to the selections within the interior gallery. A wonderfully unique gem within this exhibition is an untitled village landscape painted in 1946 while Katz was only 19 years old.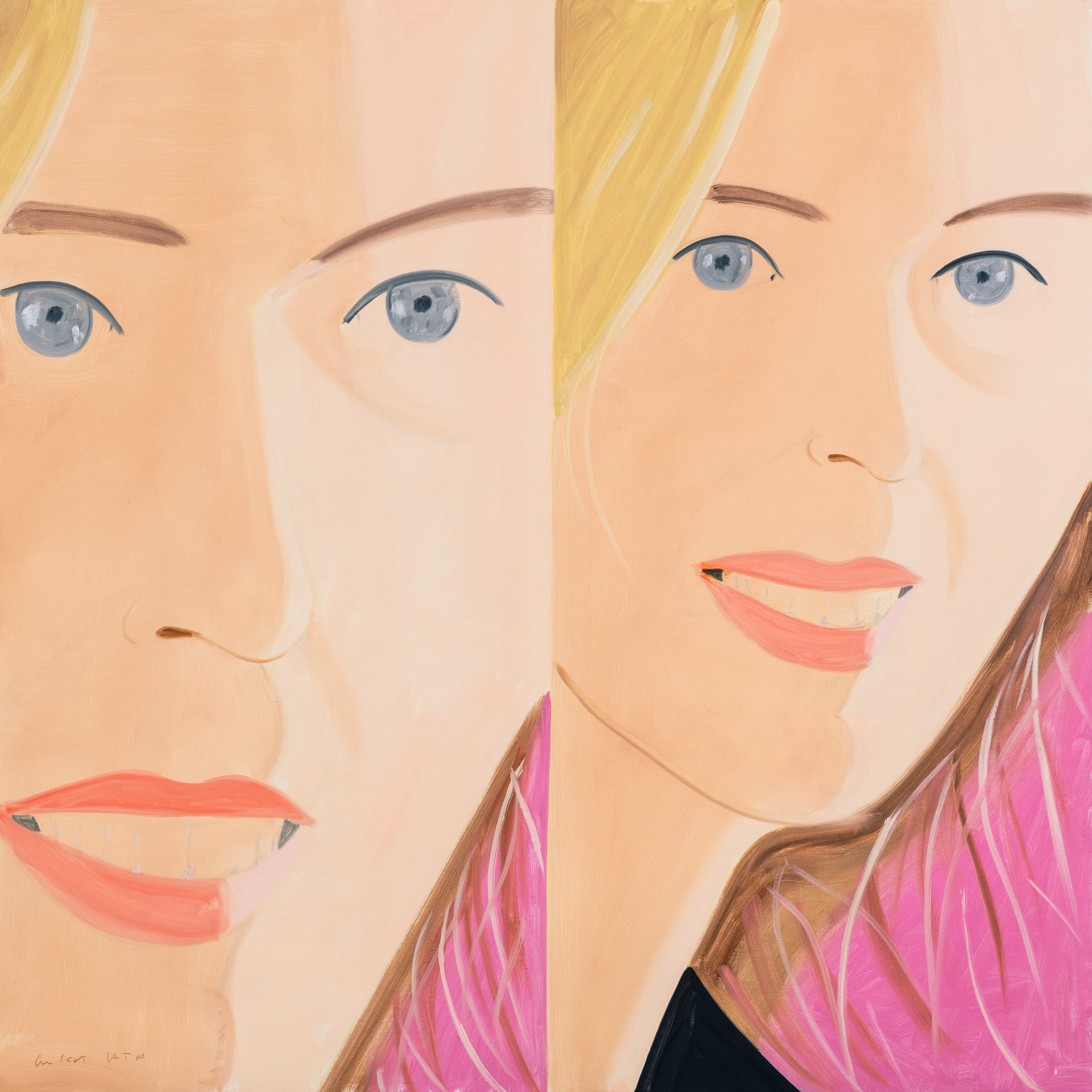 Sasha 2, 2016, Archival pigment inks on Crane Museo Max 365 gsm paper, 34 x 34 inches (86.4 x 86.4 cm), Edition of 100
In the book Alex Katz Unfamiliar Images, artist David Salle interviews Katz on his upbringing, childhood and other aspects of his career. One key answer to a question of influence encompasses all that is Katz, in relation to the People and Places exhibition at Rosenbaum Contemporary.
"In writing and thinking, I learned a lot from my mother. She was always critical of language, trying to make things clean."
The reason this statement is so important to digest is the fact that it ultimately alludes to the reductive aesthetic that is signature Alex Katz. Pulling out only the essential visual components of his subjects, Katz delivers faces in a seemingly raw power stroke; however, contemplating upon modernist art theory magniloquence we can only arrive at the simplistic nature of his painterly preciseness. Flat, illustrative qualities are married with hard-edged accessories and minimal modeling techniques. At its core, a subtractive methodology by the artist allows him to edit out the visual noise and concentrate visually on the essential key elements of his art.
In the paintings Stephanie, Kym in White, Carmen and Vivien with Orange, Katz uses the negative space around the portraits to his benefit. Eliminating any need for backgrounds, the viewers' attention is no longer diverted by the environment, but focuses on the Pop Art iconology of his immediate social circle.
Stephanie, 2007, Oil on board, 12 x 16 inches (30.5 x 40.6 cm)
Vivien with Orange vibrates with a lambent orange background, while the model, Vivien, Katz's daughter-in-law, lounges in a striped beach chair. A radiant red tank complements the choice hue of the tangerine tincture. Even with minimal muscle definition and lack of realistic depictions of contour, Katz artistically composes Vivien's arm, angled upward in a naturalistic reclining nature. As a viewer, we understand all this with only the flat but fundamental aspects of artistic delineations.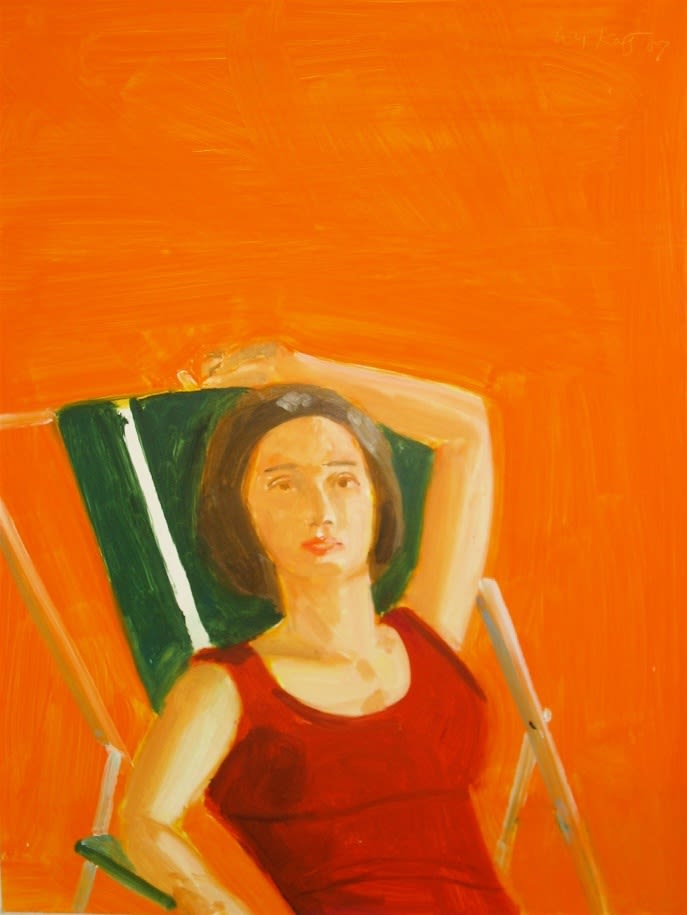 Vivien with Orange, 2007, Oil on board, 16 x 12 inches (40.6 x 30.5 cm)
Leigh is the largest painting in the exhibition. By purposely locating the full frontal portrait of Leigh on the bottom edge of the composition, Katz anchors the subject to the physicality of the canvas. We see Leigh's placement as a weight that secures the composition. The white space on the upper third of the painting is weightless. Katz's use of the achromatic field is not so much a void but a masterful decision of the "less is more" disposition. A color field technique, Katz conquers the ability of using the white not as blank space but instead cleverly addressing the surroundings with the concept of white being used as a token of color versus a destitute environment lacking in notice.
Enzo Cucchi once wrote, "The sensuality of his [Katz's] paintings returns emotion to the skin."This simplistic statement can be seen in Leigh as the definition of the cheekbone, bridge of the nose, forehead and chin are all defined with the singular tonal deviation that defines the light and shadow. The emotional response lies in Katz's simplistic treatment.
Yellow Leaves #5, painted in 2006, is a small 9 x 12-inch oil painting on board that illustrates a Japanese-esque aesthetic—alluding to the geographically recognizable pictorial definition of space with a philosophical sophistication; an allurement that was even once mentioned by the Tate Collection in reference to Katz's work. Yellow Leaves #5 is a darker color palette painting that encompasses aspects of this Japanese style. Wabi, which means transient and stark beauty; sabi, the beauty of natural patina and aging; and yūgen, profound grace and subtlety; are influential ideals in Japanese painting practices that have found a home in Katz's landscapes. Quick whips of stil de grain yellow place the leaves on the defined branches.
Yellow Leaves #5, 2006, Oil on board, 9 x 12 inches (22.9 x 30.5 cm)
Yellow Leaves #5 is reminiscent ofKatz's nocturnal series. However, rich in contextual artistic history, Katz has described a time when he was trying to capture the essence of time passing, making painting sketches in fifteen minutes, right before dusk fell. These trees, enveloped in a threnodial temperament, are four verticals, vehicles that enable the upward sweep of leaves to define space. Appearing flat, the spatial definitions are in the inferred relationships. As Smithsonian Magazine author Cathleen McGuigan once stated, "Katz's subject is the last few minutes of daylight that no one can hang onto."
Unique to Alex Katz: People and Places at Rosenbaum Contemporary is a painting displayed by itself on a small wall on the right side of the gallery. Adjacent to the landscapes, this painting holds historical keys to Katz's timeline. Painted in 1946, this untitled landscape depiction of a European village is set in a one-point perspective. All the buildings and structures dotted along the main road have guidelines that meet in the center of the composition. Painted when Katz was only 19 years old, this cityscape is very important to reference in this exhibition. In 1946, Katz was studying art at Cooper Union (1946-1949). His professors include such notable artists like Robert Gwathmey, Paul Zucker and Morris Kantor. The influence of the latter, Morris Kantor, is evident in this untitled artwork by Katz. For example, Morris Kantor's painting, Farewell to Union Square illustrates how Kantor's influence on Katz was centered on a mentorship and instruction of style, color palette and composition. The elements within Farewell to Union Square can easily be read as reflective properties in Katz's untitled painting—Kantor's woebegone city versus Katz's village. Many artistic parallels and seemingly effective professor influences add significant important to this creation that was painted by Katz over 70 years ago.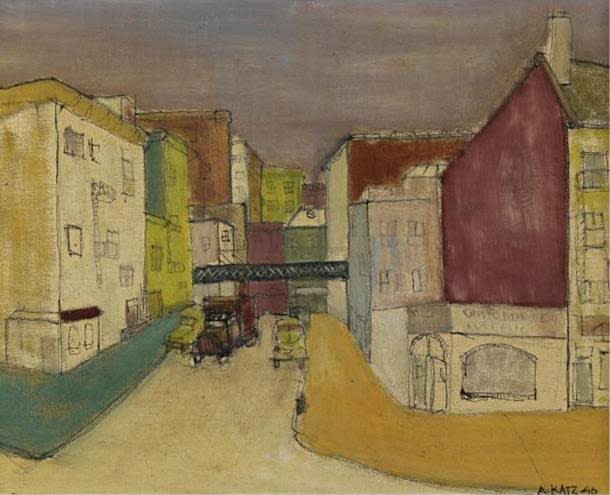 Untitled, 1946, Oil on canvas, 16 x 20 inches (40.6 x 50.8 cm)
Alex Katz: People and Places, which complements the Boca Raton Museum of Art's Alex Katz: Small Paintings exhibition, runs through April 7, 2018. Learn more.