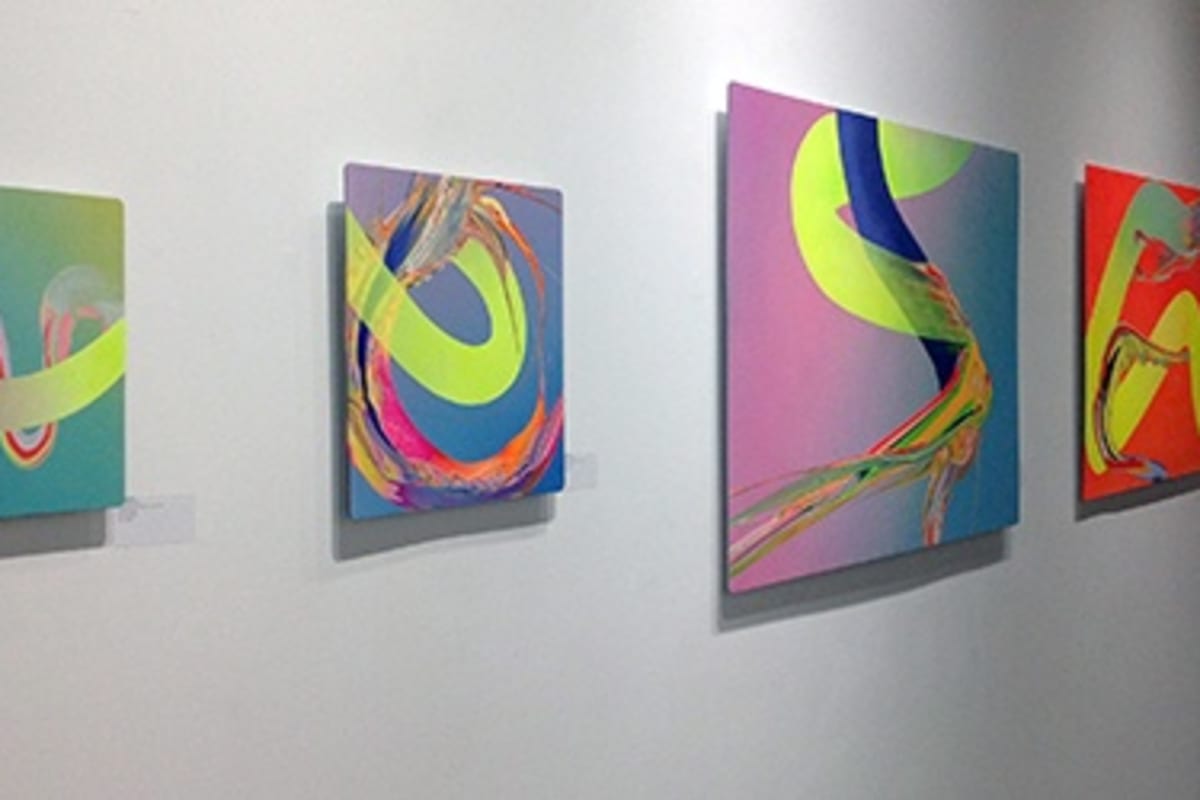 Minter's voice as a fine art artist has catapulted him further into the contemporary art echelons. Using a unique blend of spray paint and acrylic to create his compositions, he has definitely developed his own signature visual aesthetic.
Minter explains, "As a designer and abstract painter I explore speed, gravity and the interactions of human beings with the forces of nature. Experimenting with both techniques and the strength and agility of my own body, I continuously push the limits of painterly expression. I have developed a set of different techniques in connection with my explorations, many of which I now combine to create works of art that are truly unique."
Spray paint is too often affiliated with the urban art scene. In Minter's case, he has created a technique which seems to evolve past the occasional biases projected onto notions of street art.
The rawness of the enamel paint is professionally controlled, blended to smoothness and perfection, guiding the viewer down a conduit. Hyper-color neon-esque compositional elements exploit the viewer's desire to understand, recognize, and ground the assumptions of ambiguous visual cues. These painterly effects push and pull us through the explosions, smears, breaks, drips and cosmic galaxies, proving to be linear escorts where we can make sense of the abstract merits.
The one needs the other in the overall configuration, telling the full story of the occurrence—a new personification and art criticism index of Greenberg's iconic notion of avant-garde and kitsch, propagated in its own painting microcosm.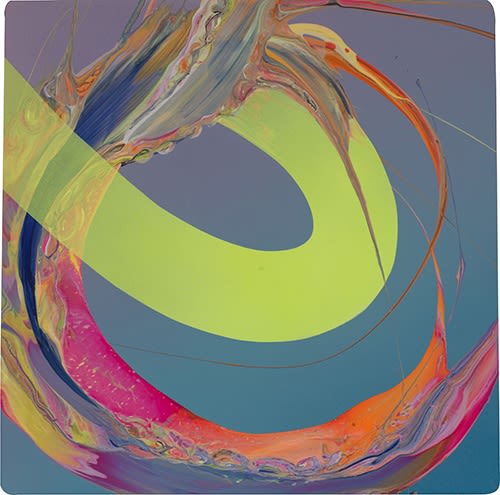 ERIK MINTER, TRUST FUN, 2019, Spray paint and acrylic on aluminum, 16 x 16 inches (40.6 x 40.6 cm)
TRUST FUN, a smaller, 16 x 16-inch painting on aluminum exemplifies this re-evaluation of a certain dichotomy—a visual contradiction, one born of the other, continuing the energy in a completely different expression. An acrylic swirl of radiant rainbows whips itself through the composition, reminiscent of Japanese ukiyo-e artist, Hokusai. Grandiose pinks, lavish oranges and magnificent purples intermingle, culminating in a portrayal of power, a wave of dynamism, born full of vitality—artistic reckoning through its own chaotic terms. It appears to birth a luminous ray, a neo-golden beam that re-directs our minute attentions elsewhere. Spinning 180 degrees, the semi-transparent luminescent light overlaps its creator, revealing the maker's strata of color, but layers it in its own veil of brilliance.
ERIK MINTER, BACKFIRE, 2019, Spray paint and acrylic on aluminum, 32 x 48 inches (81.3 x 121.9 cm)
BACKFIRE, a slightly larger work on aluminum, illustrates a treasure trove of energetic abstract subjects grappling for control—a visual power struggle of opposing forces, abstract versus concrete. Explosions of paint burst forth from the right side of the composition, a torrent of color, and a rupture of vigor that smashes through the limiting and physical pictorial plane. The orange-gradient cylinder tussles to quench the lavender livewire, wrapping itself around the energetic thrust like a coil, volleying to regulate the inevitable tactile expulsion. The cerulean background is the perfect juxtaposition by the artist of a calming hue to referee this epic battle of real versus abstract, of chaos and order, of complementary colors, of avant-garde and kitsch.