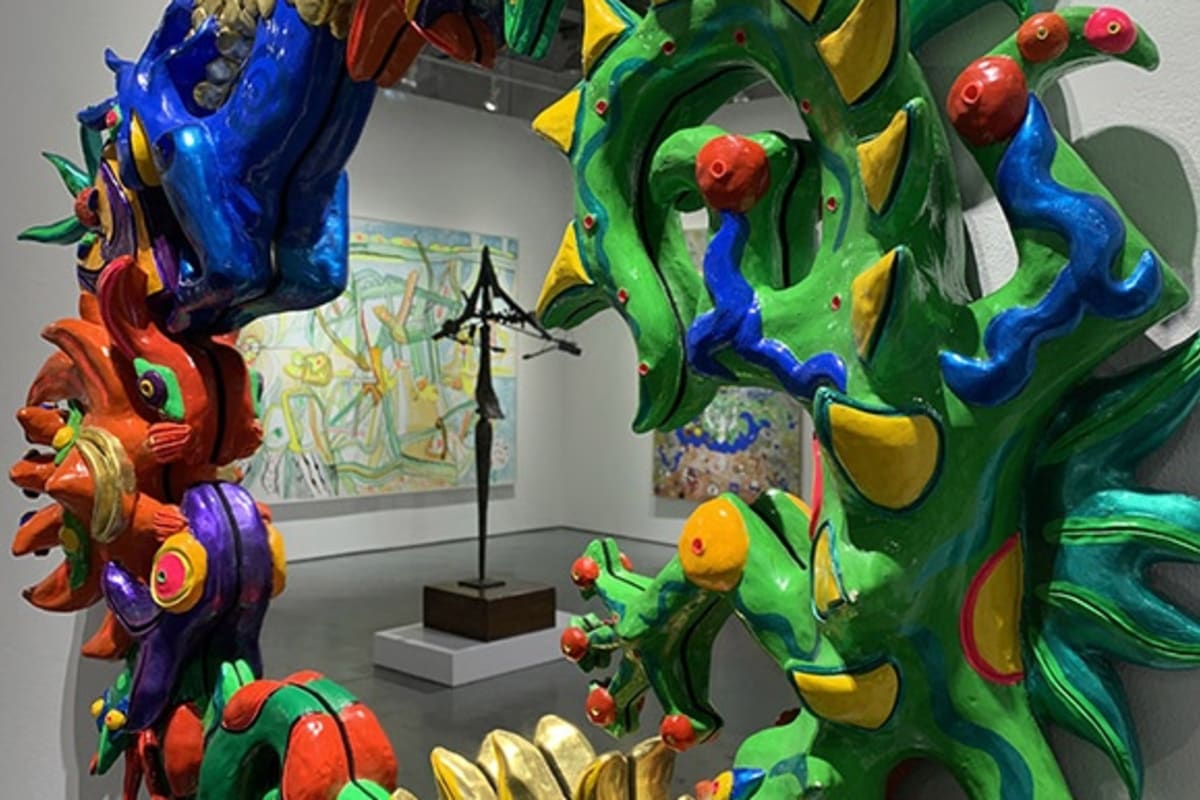 Federica Matta reflects on the Two Generations exhibition at Rosenbaum Contemporary...
When I was a very little girl, I felt that my father really had no idea how to draw. Sitting in the grass at our house in Boissy outside of Paris, I thought I was teaching him how to draw. For a girl who loved Velazquez's Meninas, Matta really needed to make some vast improvements…

Roberto Matta, Federica Matta and Malitte Pope
And, in good Zen master style, he drew under my watchful and serious eye. I would provide a model and he would have to copy it, and when sometimes he was unable to, he would then start to draw on the table, on the floor, on the trees…
And so the lesson would become a game. And after a few non-lessons, I gave up on him.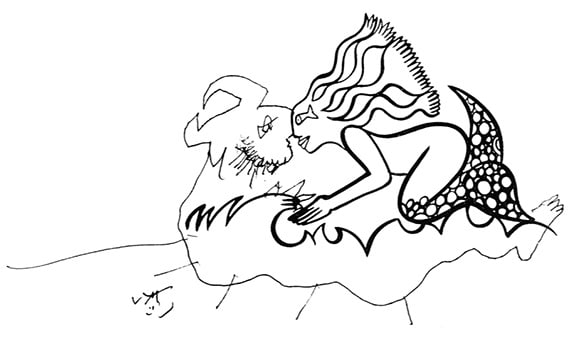 Drawing by Roberto Matta and Federica Matta
Even if it seemed as if Matta had no educational plan, we were steeped in a cultural and poetic environment which each of us children brought to fruition in his or her own way....
This [is] the second time I have done an exhibition with Matta. The first time was in Chile shortly after Pinochet's departure in 1991. It was in an all-wood gallery that looked out onto a small square where there was a charming bookstore and a café with tables spread out about the square.
Upon walking in, I saw our paintings on the wall and a model of the public art project that I was doing at the time for Miami on a table in the middle of the room. It was this exhibition that led to the public art project of the playground on the Plaza Brazil in Santiago, my first major public art project that was fully realized.
Federica Matta's Balancoires et jeux installed at La Plaza Brasil
Throughout the construction of the Plaza Brasil, a period of social unrest, I could feel Matta's protection; I felt his laughter, his alchemical way of secretly transmuting anger into humor. As if I were building our vision in concrete on a traditional square in Chile after 20 years of dictatorship under General Pinochet, after all those curfews and fear, public art and poetry was a way to heal traumas through interaction with people in the community. It was a poetic practice of politics.
There in that gallery in Chile, I was amazed to see how our work could be different and yet one. Until then, I had only seen his work in his studio and my work in mine.
I saw…Two translations of the same multiple visions........
Two interpretations of the same interior spaces.....
Two cartographies of the same imaginary place that we call reality......
And above all I have seen how our spaces so different are inhabited by the same "witnesses of the universe," to quote a title from one of Matta's 1990 paintings.

I do not know if these characters communicated with each other telepathically, but suddenly we were being seen by entities that had become visible. I was reminded of Duchamp's phrase, "It is the viewer who makes the painting." Here, the paintings viewed the visitor. Therefore, our dreams, our visions, our desires were revealed in this laboratory of consciousness that the gallery had become. It is thus that today beyond his death, Matta's paintings have kept his life, his energy alive.
Intuitions…Matta always said that he did not know what he was doing and was surprised to find in some of his works the young man he had once been. And I am astonished to see how, beyond our difference of age, we were present together and for one another, present for our respective passages on this Earth.
Wandering about this first joint exhibition of our paintings, I thought about how a new door was opening up; I did not think about it again until years later. Only now have I rediscovered the door I had just peeked my head through back in 1991; only now, in 2019, in Boca Raton, am I opening that door a bit wider and stepping over the threshold, taking a few steps and having a look around…
Last year my brother Gordon had a show at the Bronx Museum and I was invited to speak about our work and the memories of our lives. As I spoke about the influences that came to me from my brother Gordon and my father Matta in the museum, surrounded by all my friends, with the images that I had assembled scrolling just above my head, I could see how this ever and always present common ground has been cultivated in this strange family—the one I've been invited to participate in, the one in which each of us has developed in his or her own way to then unify our individual visions in some real, yet Imaginary place—a physical place after all, since images are what are being discussed here. Each one of us has had his or her own style of finding ways to penetrate the opacity of reality. It is I who am here now, present, attending to this phase of the world…I who sees how all of these works will someday circulate amongst the stars, on some already-existing wavelength, that we'll likely end up inhabiting in a more conscious way, someday…

I see this exhibition in Boca Raton as yet another "message in a bottle" that says something about what I have received and can transmit. Before my eyes appears a circle in the process of being formed, containing all of the different states of consciousness that one goes through to arrive at an image. At first the image is vague and then it becomes more clear….
I can see ripples forming as if these images were ceaselessly throwing multicolored pebbles into the waters of my mind. I wonder if this image is clear, or perhaps I am just filling in the blanks left empty by Matta's thinking, and/or are his fantasies coming to fill in my blanks? I imagine the dialogue between our paintings, the research, the alchemy of Matta and suddenly it's as if we had painted side by side in this ethereal workshop where we are now entering together in this show.
To put it another way, I would say that it is a joy to participate in Matta's vision, to contribute to finding new ways of saying things. At this moment in history, when we are all preparing for "The Unthinkable," to quote a title of a Matta painting from 1958, which describes the war between mankind and nature, his vision begins to take on a whole new meaning, deeper and more tangible. Matta's paintings will continually be renewed by the people who discover them.
Here in Boca Raton is the start of a new adventure...
The deeper significance, if that were possible, is that we are all becoming more aware, more awake and more capable of approaching his artwork.
Let's imagine the type of dialogue that goes on in a family where everyone is an artist, where there are several communicators using invisible, nonverbal, frequencies… more than just words...Words are used to light the way towards/as light play for inventing new ways of seeing, new ways to understand our visions. I think then what we translate on canvas, on paper, in forms and through colors, is that nonverbal way of communicating. This is what we want to transmit in this show.
We've visited some relatively complex terrain during this leisurely conversation—the path is forged by walking, and that is how we are able to move forward. Painting creates the internal equilibrium for all of these energies, and when I walked in my bare feet covered in paint on the paintings of my father, I personified the creative process in action. I think that Matta's influence is what has allowed me to have a free and humorous approach; I have found that these qualities are perhaps two of the most present colors in his oeuvre.
This is an invitation from an invisible world made visible in some instances, a world that constantly recreates itself as well as you, the viewer. Let's share what is happening within ourselves, our worlds, our voices, our presences.
It is through those actions, within ourselves, with ourselves, that we come together once more. Here we all are—the wind, the wave and the "intractable beauty of the world," as the poet Edouard Glissant said in his address on the occasion of the election of Barack Obama.
Federica Matta
Paris, January 26, 2019
Translated by Cynthia Gonzalez-Bréart