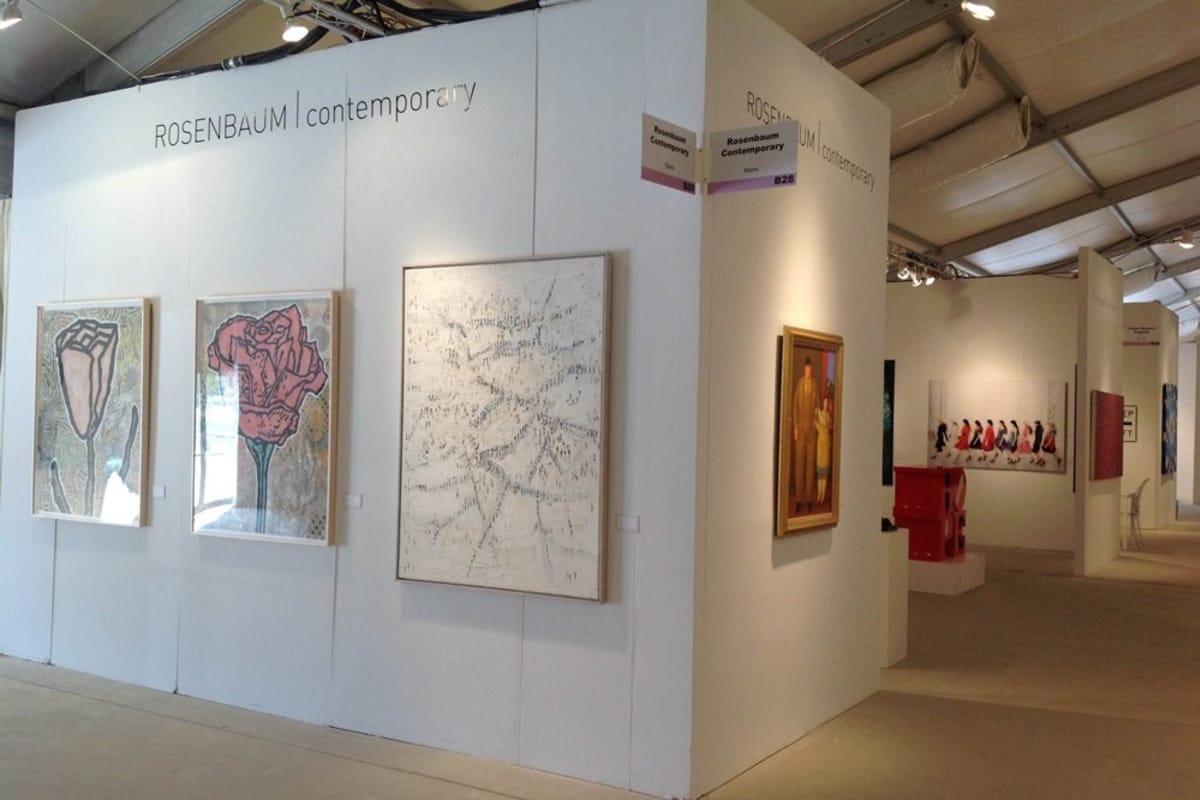 Rosenbaum Contemporary presented work from Raphael Mazzucco, Simon Procter, Robert Indiana, Sam Francis, Ron English, Thomas Hartman, Oriano Galloni and Donald Baechler.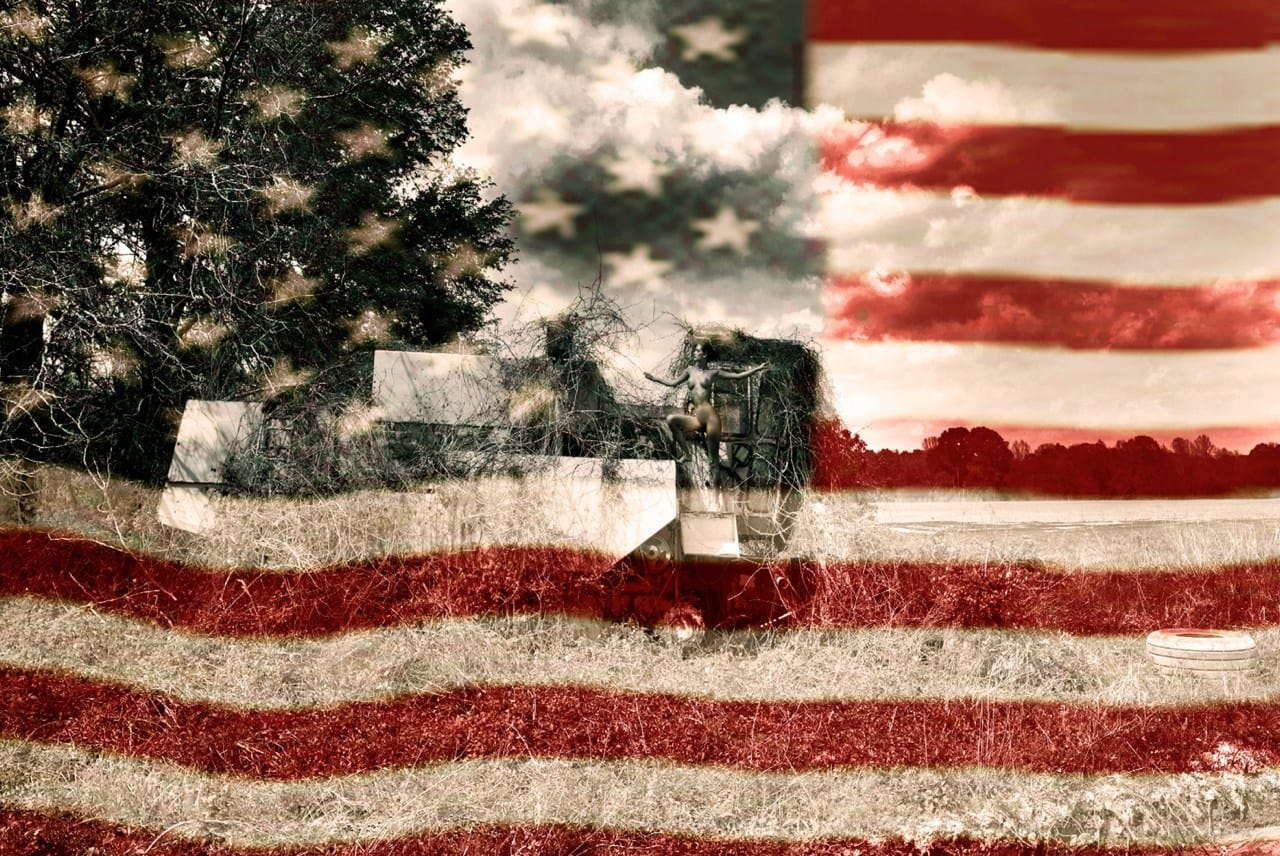 RAPHAEL MAZZUCCO, Flag, 2013

The mixed-media work of fine art photographer and visual artist Raphael Mazzucco combines his stunning photography with the sensuality of painting. Renowned photographer Peter Beard has referred to Mazzucco's work as "life enhancing, forward and energized." Recently American Photo named Raphael Mazzucco as one of the world's top 50 photographers. Carine Roitfeld of Vogue Paris called him "one of my favorite new artists…".
Fine art photographer Simon Procter has achieved international acclaim for his fashion photography, capturing quintessential runway moments for many of the world's greatest icons of fashion, including Chanel and Valentino.
SIMON PROCTER, Lagerfeld at Grand Central, NYC
His photography has been featured in V Magazine, Vogue Nippon, Harper's Bazaar and The New York Times. What is unique about Simon Procter's work is that the artist captures the grand theatricality of couture shows, presenting both the linear precision with which they are staged and the aesthetics of the architectural spaces where they are held.
Robert Indiana has long been recognized as one of the leading figures of the Pop Art movement. Recently, his work was the subject of the retrospective, "Robert Indiana: Beyond LOVE," which concluded at the Whitney Museum of American Art on January 4 and is now at the McNay Art Museum in San Antonio, Texas. Another exhibit of Indiana's work, "The Essential Robert Indiana," is on view until May 2, 2014 at the Indianapolis Museum of Art. This exhibit highlights Indiana's skill as a printmaker and graphic artist.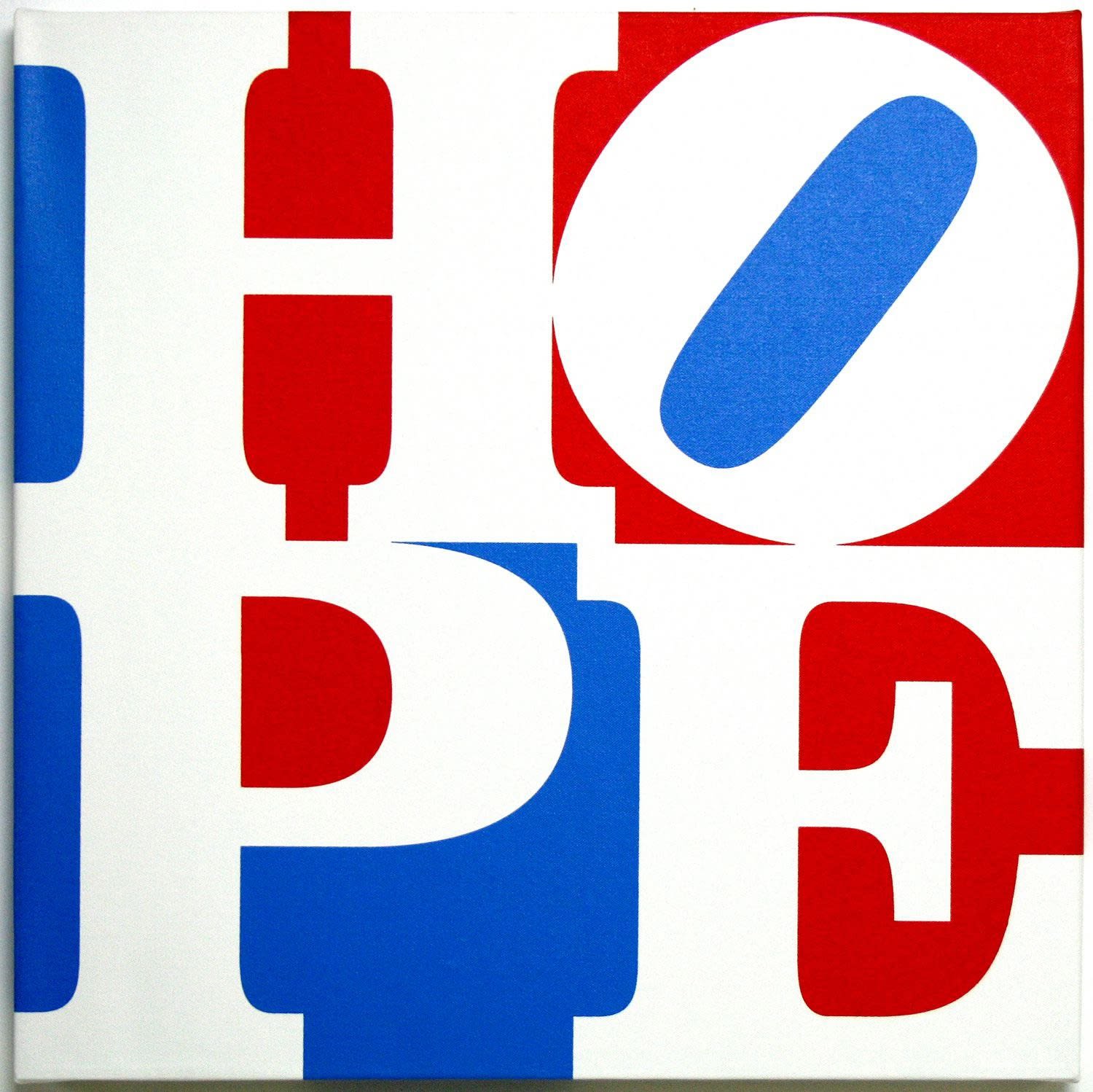 ROBERT INDIANA, HOPE (White/Red/Blue), 2008
Indiana's iconic LOVE image first appeared in 1966. In 2008, he began working with the word, "HOPE" and new work with this theme, along with "Art" and "Alphabet" themes, is being shown at Rosenbaum Contemporary's Boca Raton gallery location until May 30, 2014. The exhibit was mentioned in ArtInfo's "In the Air" blog.
Within his pictures, German artist Thomas Hartmann does not seek to create fixed points from which to lock in the world. Rather, his paintings are like a departure into unknown territory within which he balances reduction and abundance, distraction and concentration, resulting in a compressed reflection. Nothing is the result of prefabricated calculation. Everything that emerges, that is visible, in color, form and their interpretation appears fresh to the gaze.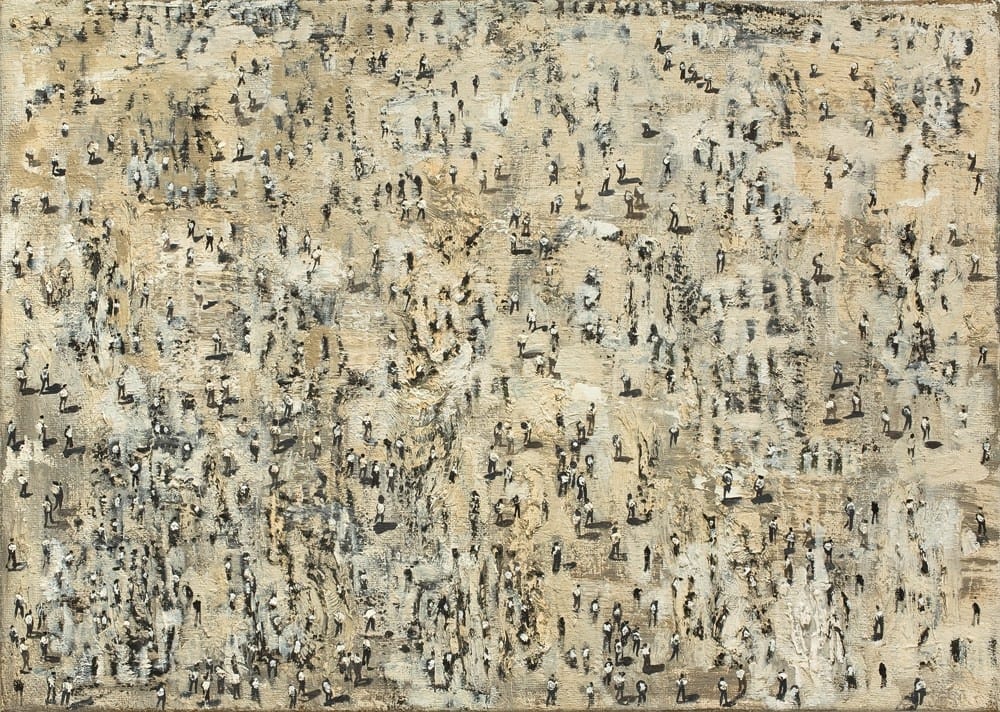 THOMAS HARTMANN, Land und Leute (Land and People), 2009
American artist Sam Francis's work was initially influenced by the abstract expressionists, including Mark Rothko, Arshile Gorky and Clyfford Still and he became loosely associated with the second generation artists of this movement, including Joan Mitchell and Helen Frankenthaler. Francis died in 1994.
SAM FRANCIS, Untitled, 1988
Ron English coined the term "POPaganda" to describe his signature mash-up of high and low cultural touchstones, from superhero mythology to totems of art history, populated with his vast and constantly growing arsenal of original characters. English's unforgettable images have appeared across the global landscape on the street, in museums, in movies, in books and on television.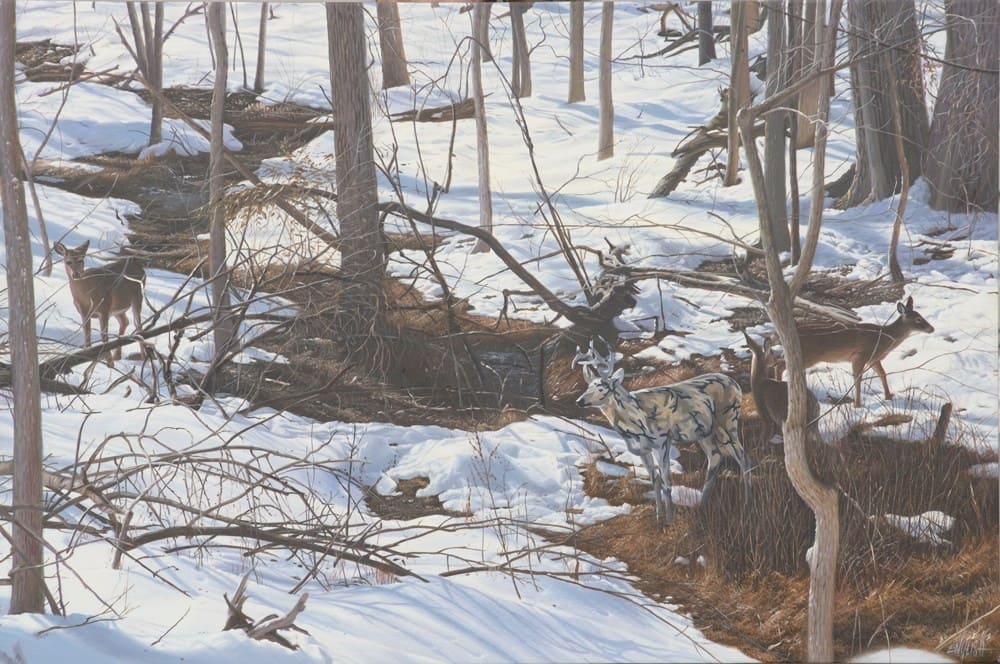 RON ENGLISH, Camo Deer Family in Winter, 2011
Much of Donald Baechler's paintings draw on childhood imagery and themes and on the large collection of worldly images he has collected over the years and archives in his Manhattan studio. He ingeniously depicts everyday objects and cites among his diverse influences Cy Twombly, Robert Rauschenberg and Giotto, the Italian painter from the Middle Ages.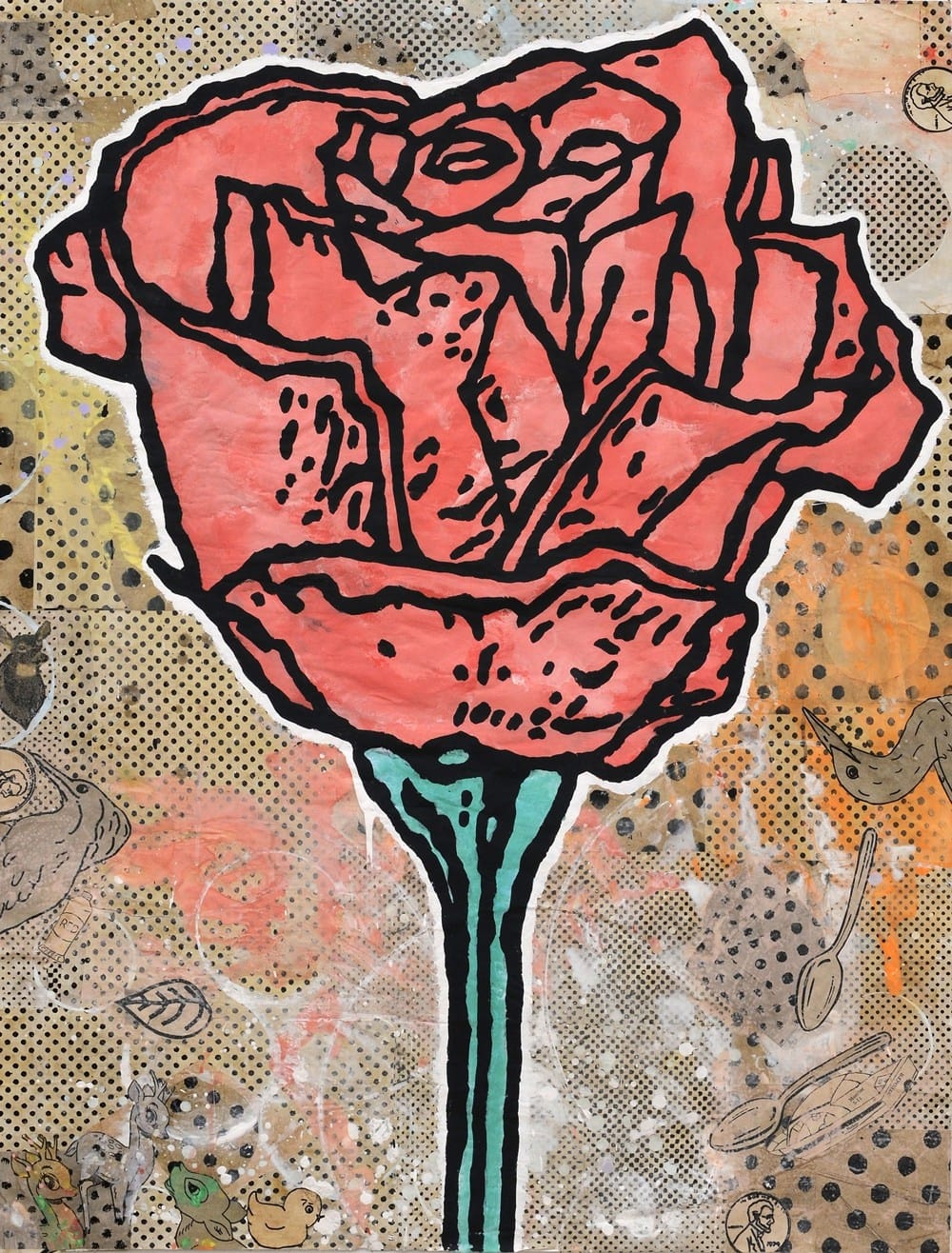 DONALD BAECHLER, The Desire and the Flying, 2013
Italian artist Oriano Galloni infuses the spiritual into his sculptures, referring to the long and lean figures as "Silent Souls." The inspiration for these works came from time spent walking in quiet contemplation in a German forest below 50- to 100-foot trees. These sculptures are comprised of Linden wood and Carrara marble, the same marble used by Michelangelo,which alludes to his studies in Italy's Tuscany region. He now divides his time between there and New York.
ORIANO GALLONI, Silent Souls, Essence of Autumn, 2013