RAPHAEL MAZZUCCO, Eocene, 2013, Archival print and acrylic paint encased in resin, 74 x 50 inches (186 x 127 cm)
Yet, juxtaposed against the inherent beauty captured by Mazzucco's lens, there's a poignant longing, demonstrated in words written across the images, such as, "…by myself. All by myself. Waiting for Summer sun. Everything is coming down around us…." As Raphael Mazzucco has grown as a fine artist, his work has evolved towards mixed-media collage. On top of his photos he layers painted brushstrokes. On top of those, the viewer is intrigued by found objects, such as a ball of twine, an animal skull — objects that lend themselves to curious associations when contemplated against images of some of the most beautiful women in the world.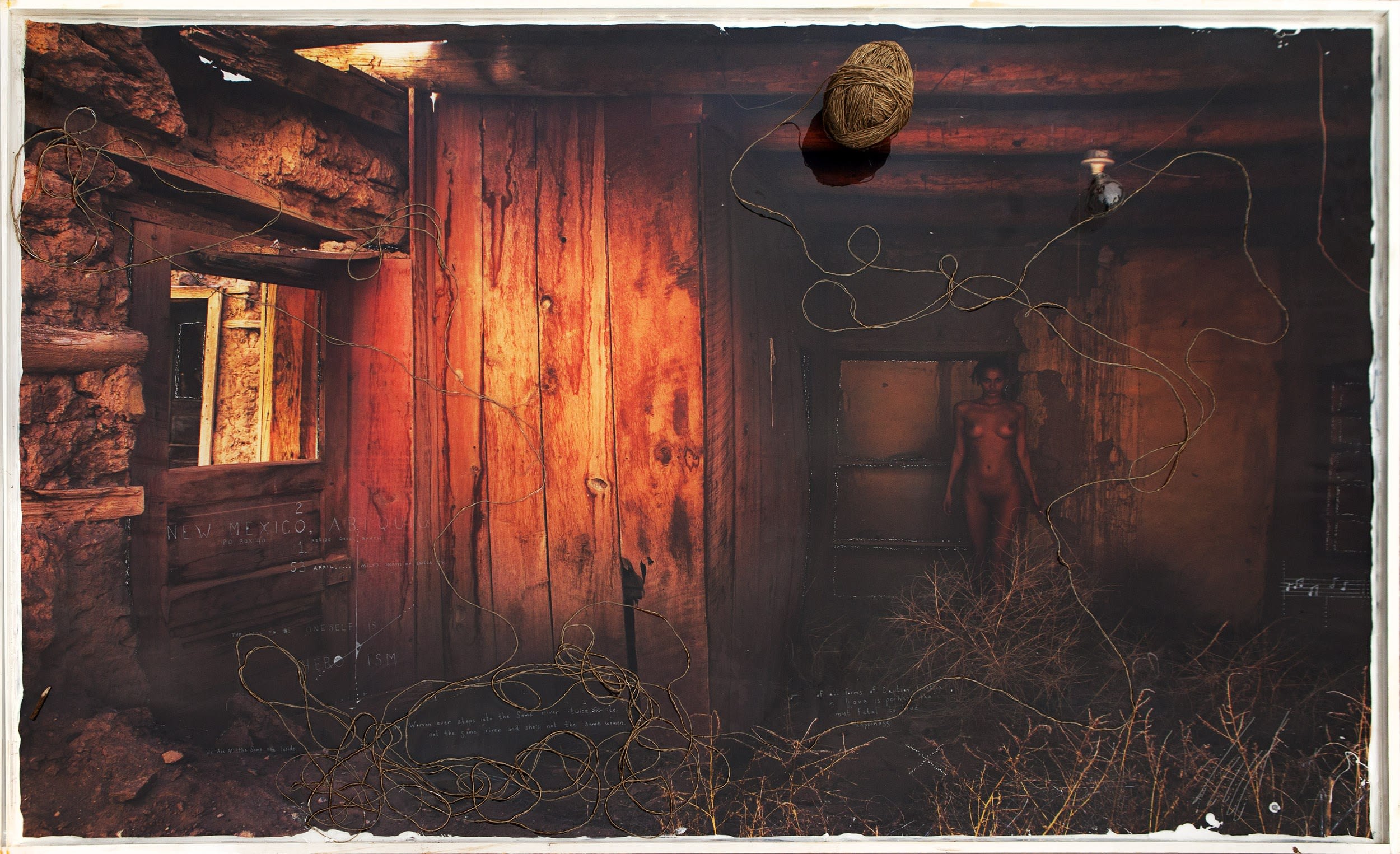 RAPHAEL MAZZUCCO; Enclosed; 2013; Archival print, oil paint and mixed media encased in resin; 60 x 90 inches (152.4 x 228.6 cm)
In Mazzucco's work, the female form is central, but so is nature. Water, air, earth, sand and sun all play an integral role, subtly alluding to an inter-connectivity of form and place. Even his choice of materials bind him to nature. In his book, Raphael Mazzucco: Collected Art, he writes, "Paint I use is from plants and minerals in the Sahara desert crushed powder with the colours of life." These powerful photos by Mazzucco have been exhibited around the world, including in Florence, Italy; Hong Kong; Art Basel Miami Beach; Los Angeles; Melbourne, Australia; Milan, Italy; Montauak, New York; Southampton, New York; and Toronto, Canada.
Artist and photographer Raphael Mazzucco with actress Pamela Anderson at an exhibition of his work by Rosenbaum Contemporary during Art Basel Miami Week 2013
When Mazzucco is not in his studio creating art, he is traveling the world to photograph celebrities and top models and to collaborate with other artists across all disciplines. In March, country superstar Keith Urban announced that he was partnering with Mazzucco on a new line of t-shirts that would be manufactured in Haiti, with the proceeds benefiting the workers and their families. Mazzucco is also the only celebrity photographer to appear in an episode of the HBO series, Entourage, and his book, Culo, is mentioned during the scene.
Raphael Mazzucco's portrait of actor Adrian Brody.
Carine Roitfeld of Vogue Paris called Raphael Mazzuco, "one of my favorite new artists…". He has worked with prestigious clients, including Guess Jeans, Victoria's Secret, Bergdorf Goodman, Intimissimi, L'Oreal, Ralph Lauren, and his photos have appeared in leading publications around the world, including Vogue Italia, Vogue Paris, Playboy, Vanity Fair and the Sports Illustrated Swimsuit Edition.
To learn more about Raphael Mazzucco's work, email info@rosenbaumcontemporary.com or call the gallery at 561.994.9180 or 305.864.4968.